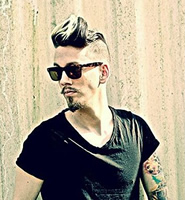 Mark Goff
Commercial Dance Teacher
Mark was brought up in a performing family, with Magicians, artists, singers and musicians.  Even though he had performed from a young age in local shows and attended a drama school for a year or so, his life changed when he met 2 Filipino boys at the age of 13.  These 2 boys could do all kinds of amazing dance moves, from spinning on their heads, to moonwalking and doing flips off of all kinds of objects.  This would be where the Passion began to dance. After years of training Mark went on to work with the X factor, Footloose, Nickelodeon and many many others, also choreographing shows at the London Palladium, Royal Albert Hall and countless theatres across the UK.
Even though dance was where it all started, there have been plenty of other Ventures for Mark, from having music pieces he created on the Xfactor to Touring America playing a guitar, also winning many competitions whilst part of vocal group The Shures.