This friendly, encouraging and social group has a broad repertoire of songs sung in two, three and four part harmony from classics to beautiful ballads and arrangements from films and shows.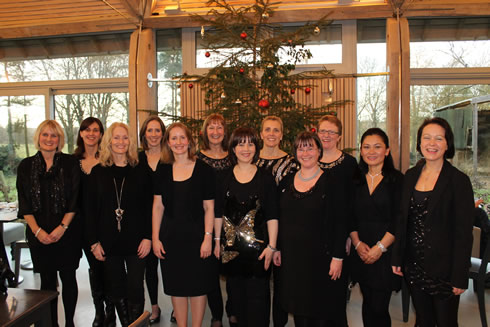 It's an excellent opportunity to make friends, make music and have a lot of fun.   The group is truly open to all, there are no auditions and the ability to read music is not a requirement.  What is needed is a love of singing and a willingness to 'give it a try'.
The Songbirds enjoy performing at both private and public events and regularly support community groups and charities.   Amongst others, performances have included a ruby wedding anniversary party, Towcester Midsummer Music, Carols for the Alzheimers society, Christmas at Stowe and a Ladies night for the Rotary Club.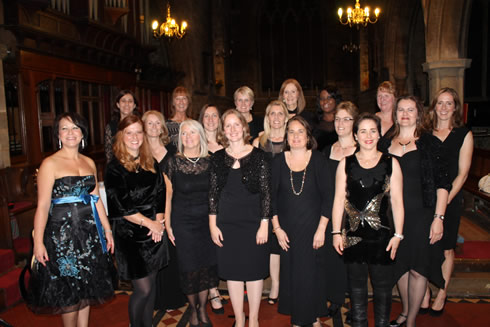 The Songbirds meet on Monday evenings during term time from 7.45-9.15pm at Nicholas Hawksmoor Primary School in Towcester.
Musical Director Kat Stephens said: "Singing in a group is such an uplifting and enjoyable pastime, you can't beat it! Everyone can sing, and by learning some basic techniques you can improve your voice dramatically and increase your vocal confidence.  You can join at any time throughout the term, so why not come and give us a try and release your inner performer!"
"Bravo! What a performance you and the girls gave us all on Friday night. I received so many compliments from the guests regarding the singing talent. I hope you are proud of yourself and your girls – you should be!

Please could you pass on Caryl's thanks to all of The Songbirds? She was delighted with the way her evening went.

To quote one of the guests: "What a truly successful evening on Friday – the red, white and blue, the wonderful music, beautiful singing and the amazingly resounding crescendo Proms singing as a finale." Praise like this would not have been possible without you and The Songbirds, so thank you".

Kind regards

Dee Fagan

PA to the Chairman and Leader of South Northants Council

PA to the Democratic & Elections Manager
"Thank you so much for our performance on Saturday. I had a ball! On the 18th June last year I was being discharged from hospital in a wheelchair & was learning to walk again. On the 18th June this year I was having the most wonderful time with you & the girls – what a difference a year makes"!!

Ciaragh Hubert

"I have always loved singing but kept it to the confinement of my household and the car, mostly due to confidence as I am no Whitney, but can hold a tune. A friend recommended the Songbirds and I was pleasantly surprised and have never looked back. The group is part of the community and we sing at charitable events, which makes it even more special. I have met a fantastic bunch of women who are supportive and encouraging and Kat Stephens is an excellent, patient, skilled director who knows just how and when to encourage in a kind and thoughtful manner. Her enthusiasm is catching and is a pleasure to work with. Highly recommend Songbirds and Aspire".

Manny Arnold, Towcester.
"I have been in Songbirds for about three years now. I joined because I had moved into the area three years previously and really missed singing. I approached Kat with a clear message that I wasn't up to much – I was scared she thought I might be a 'proper' singer! She could not be more welcoming and approachable. She gives us all the help we need and really knows how to use your voice to get the best out of it. She is one of the most encouraging people I know. I have found friendship and laughter in Songbirds, not to mention the brilliant mental health benefits of singing. I could not recommend it enough. Don't let nerves or doubt hold you back – you won't regret it"!

Annemarie Mcelhatton
"I have been a songbird for the last year. I simply love it! I've made some wonderful friends, and it's brilliant 'time out' each week doing something for myself. A good sing really does wonders. Kat is a fabulous teacher who really gets the best out of us all and (we're told) we sound rather good too!"

Sharon Olney
To enquire about joining, or to book The Songbirds for your event, please contact Kat Stephens on 07870 565789 or email: kat@katstephens.com